The finish you choose for your next project can make or break certain design elements. Floor and wall coverings can greatly influence the style of a room. When deciding what type of finish is best, you must ask yourself important questions about your style and safety concerns.
How will it hold up with 10 years of heavy traffic? Does it contain VOCs or other harmful toxins that may be released? Design is cyclical, will it stay relevant in a couple years? Can I customize it in colors that fit the other fixtures in the space?
We've developed a list of top 5 widely used interior finishings based on price, style, wear and upkeep.
5. Vinyl
Price – Vinyl flooring is a great choice for the budget conscious and can cost less than a dollar per square foot. Self-adhesive tiles are usually the least expensive. Look – Vinyl comes in a huge array of patterns and colors, from solids and patterns to faux granite or faux hardwood. Upkeep – With the proper care it can look new for a long time as long as its not in heavy traffic areas like kitchens, laundry rooms and bathrooms. Wear – Vinyl is resilient but it rip if a sharp object is dropped on it, creating nicks that can be impossible to fix. Also, colors can fade with exposure to too much direct sunlight and floors can be damaged by extreme temperatures. Considerations – This hardwood imposter is also hazardous, releasing volatile organic compounds (VOCs) and harmful gases that contribute to air quality problems.
4. Carpet
Price – Carpets are designed to fit virtually every purpose, decorating style and budget. It is easy to install and it provides excellent installation, which can help cut down the power bill. Look – It can add warmth, color and enhance the design impact of a room. Upkeep – The life of a carpet can be extended with frequent vacuuming and steam cleaning. However, carpet may need to be replaced four to five times within a thirty-year period. Wear – Carpet can stain over time and can also be an issue your pets are not house broken. Not to mention, tick, fleas and other pests love to live inside carpets. Considerations – Carpet can cause problems for people with asthma, or other respiratory challenges because it is great at holding dust and other allergens. Carpets can also hold moisture, over time this can allow mold to grow.
3. Marble
Price – Marble is durable and expensive. Look – Marble is wonderfully rich and can turn any room into a dramatic showcase. It can range from solid, sleek, solid color to elaborate mosaic or designs. Not being limited to floors, marble is often used in bathrooms and blacksplashes. Upkeep – Because it is so shiny and sleek, marble is hard to keep clean. Streaks, scuffs and dust will show up immediately so frequent cleaning is a must. Marble needs to be professionally cleaned and polished at least once a year to keep its sheen and repair any cracks or dry areas. Wear – One of the most durable finishes, marble can last for many years if it is sealed properly. Considerations – Marble is completely natural and biodegradable so it will never clog up landfills. However, be prepared to wear slippers and use throw rugs in the winter because marble is freezing on bare feet.
2. Hardwood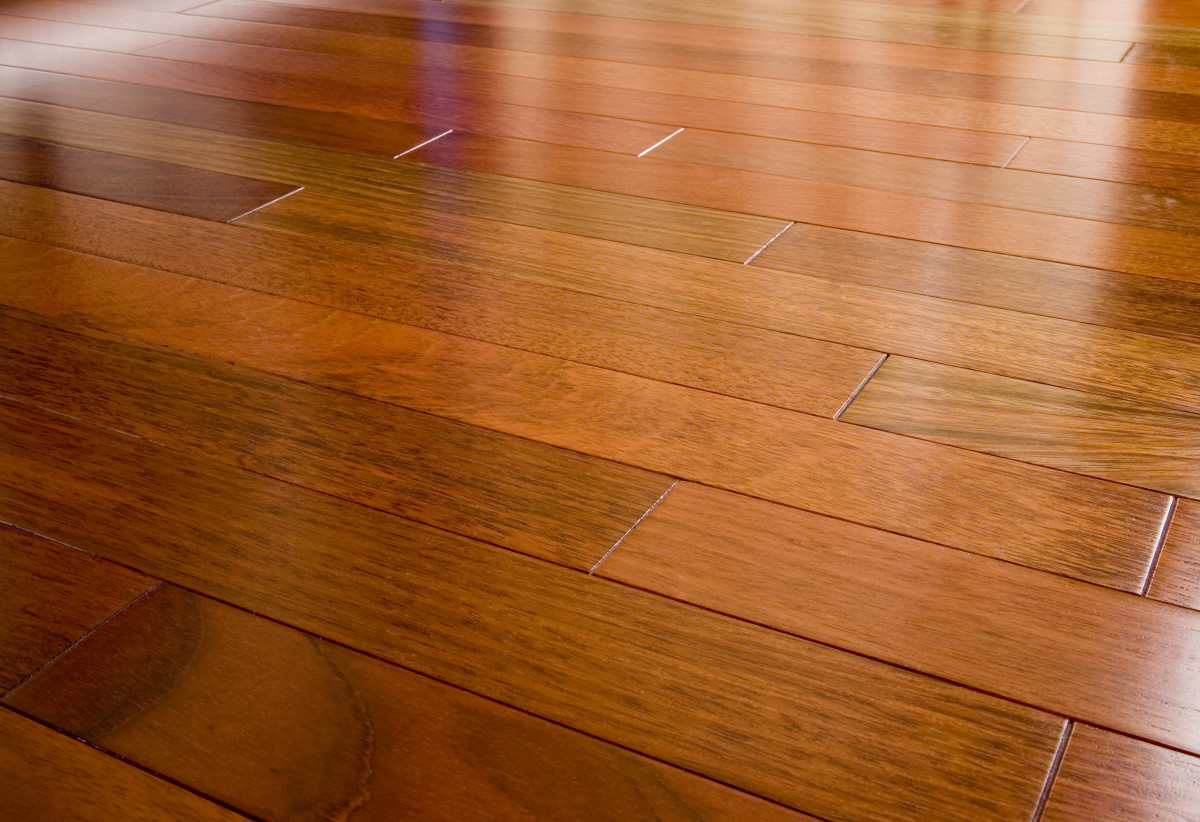 Price – The cost of hardwood heavily depends on the type of wood chosen. (American cherry wood can be purchased for about $5 per square foot, while Brazilian cherry costs about $14 per square foot. Pine planks are available for about $12 per square foot). The price can also rapidly increase with the addition of custom borders and patterns. Look – Hardwood is timeless and offers unrivaled splendor that can fit any style. If you prefer a traditional style for your space, there's oak, ash, mahogany and walnut. Those who favor modern or contemporary might gravitate towards maple, or more exotic flavors like tigerwood or sapele. If your style is more rustic, there's hickory and cherry to choose from. Upkeep – After being installed, hardwood requires a protective sealant to preventive it from prematurely deteriorating, after that it regular sealing is required every few years. Wear – Hardwood is resistant to dents and scratches, however it is susceptible to moisture problems. Hardwood can last a lifetime if properly maintained. Considerations – Hardwood can be more costly than many other options, but it offers longevity and can add value to a home.
1. Mosaic Tile
Due to its inherent durability, versatility and vibrant colors, mosaic tile is the premier choice for surface finishes. If you are looking for something that is beautiful, elegant and timeless, mosaic is going to satisfy your needs. Price – The cost for mosaic depends on many factors like the material choice and level of customization. Look – From contemporary to traditional, whether you want a backsplash or an entire wall mural, the choice is yours. Mosaic can be highly customizable and the tile options are endless; from vitreous glass, sintered glass, natural stone, unglazed porcelain to prism glass. Upkeep – Once installed, mosaic floors, walls or backsplashes are almost maintenance free. They simply need to be cleaned with any other area of the house. Most tile types are non-porous making them waterproof, hygienic, and unaffected by humidity, a great choice for the bathroom or kitchen. Wear – Mosaic can be made from raw materials like stone, marble and glass, all incredibly durable and will last longer than any other types of coverings. Considerations – Mosaic is a sustainable choice for green surfaces due to its inherent durability and sustainability. Mosaic tiles store thermal energy to stabilize temperature swings and certain tile can be an insulator.   What's your favorite floor or wall covering?