Surfacing Product that will Stand out in a Crowd
ANYTHING GOES WHEN IT COMES TO FLOORING, WALLS, AND CEILING TREATMENTS
The typical American house is somewhat predictable in its selection of materials used on walls, ceilings, and floors. The average house is likely to have gypsum walls and ceilings, carpet in the bedrooms, and ceramic tile in the bathroom.
According to Home Innovation Research Labs' 2017 Builder Practices Survey, carpeting is—and has been for decades—the "far-and-away favorite in bedrooms for all types of housing." Home Innovations adds that ceramic tile and solid hardwood are tied at No. 2, with engineered hardwood flooring in fourth position. "Laminate, which is very popular with consumers in the flooring replacement market, has just begun to take hold in new homes and is now at 3 percent," Home Innovation says.
But geography matters, with flooring trends and materials largely influenced both by the type of house and the region of the country in which it's located. For example, solid hardwood is most popular in New England homes (52 percent) and least popular in new homes in Pacific states (10 percent). Carpeting, which is most popular in the Midwest, represents slightly more than 50 percent of all new-home flooring there, while in New England, that material is least popular, being used in just 18 percent of new homes.
"Tile is most popular in the Mountain states, particularly in the desert south, with about a third of all new home flooring," Home Innovation says. "Tile is least popular in the Midwest with slightly more than a 10 percent share."
And the choice of engineered hardwood is highly regional as well: "It does very well in many Southern states where concrete slab floors are popular; in the Pacific Northwest; and in some intermountain hot spots such as Colorado, Utah, and New Mexico," the group says.
No matter the flooring material, innovation is rampant, as manufacturers expand the conceptions of what a material should be. This month, we highlight many of these products in our annual surfaces and coverings issue. You'll read about organic-looking wood flooring with curves, ceramic tile that's a dead ringer for wood, glass tile embedded with fabric, and a custom mosaic system that lets construction professionals create almost any look they desire.
The innovation in the market proves that whether your client or buyer is a wood devotee in the Northeast or a tile lover in Tyler, Texas, there's a cutting-edge option for them that will stand out from the crowd.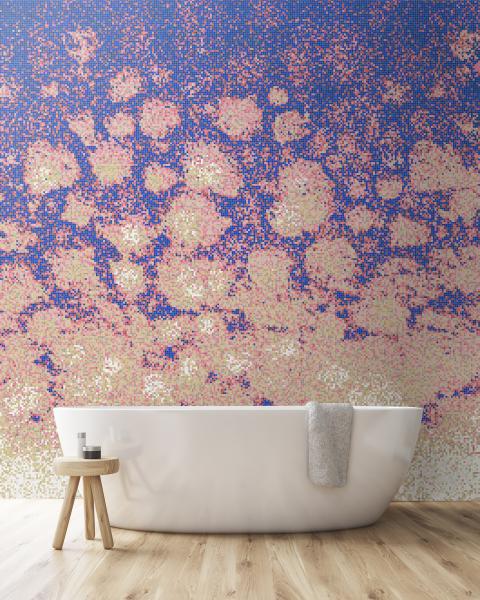 The brand's custom mosaic tile is available for a wide variety of applications, including walls, floors, and showers. Using mosaic-design software and a robotic assembly system makes ordering a custom mosaic easy, the company says.