Artaic collaborated with artist Simon Hughes to create these stunning custom mosaics, entitled The Day, for Kipling Station Bus Terminal in Toronto, Ontario Canada. Utilizing our 3/4″ Vitreous Glass, the mosaic installation spans a total area of 2,400 feet. 
The Day was inspired by Hughes' imaginative vision of the city. Referencing a wide variety of symbols, architectural styles, and landscapes, the installation blends fantasy and reality. Using icy blue colorways reminiscent of Toronto's cool temperatures, Hughes collaborated with Artaic to create an inverted color gradient. The mosaic artwork features dark tones at the top of the shapes that dissolve into a white background, creating the appearance of a city emerging from morning fog, haze, or a snow squall.
The design is an 'all-over' composition, meaning it cannot be viewed all at once, but instead contains small details that reward the viewer as they move through the artwork. Hughes combines modernist abstraction with landscape traditions as the installation features cave-like portals and abstracted trees. The piece forms an evergreen forest that surrounds the viewer as they ascend or descend the stairs. This imagery represents the journey along the Trans-Canada highway in northern Ontario. The installation also features a distinctive Toronto skyline, allowing viewers to feel connected with the familiarity of the city's silhouette.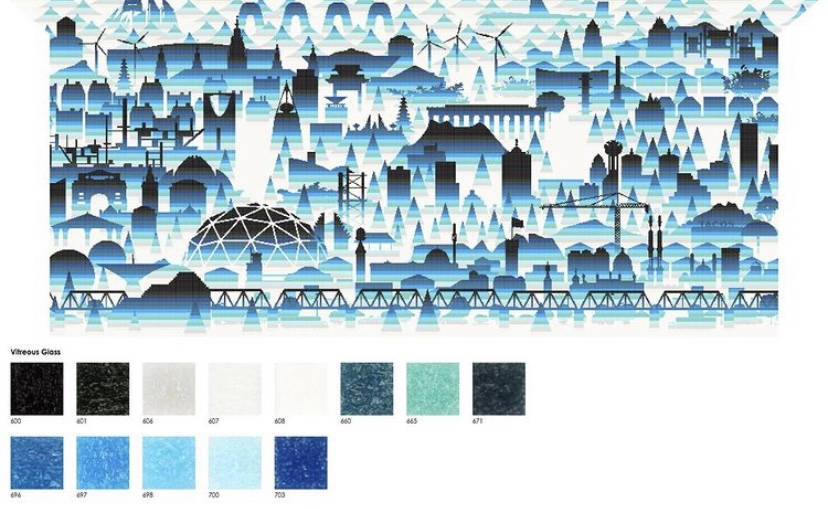 Simon Hughes holds a Bachelor of Fine Arts from the University of Manitoba and a Masters of Fine Arts from the University of California. His art practice includes drawing, painting, film and video. You can see more examples of his work here.  
Learn more about about the installation in the video below! 
Photo credits: Lesia Miga