By Sloan Conners, Sales and Design Consultant at Artaic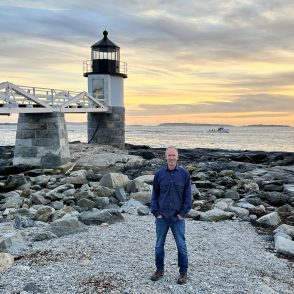 Brian Krebs has always been fascinated by water (though he does not like getting wet when he hasn't planned for it). Water is a subject matter that has been a nautical muse for artists throughout the centuries. Like Brian, at Artaic we share a love for subject matters of the ancient arts and apply modern processes in our work to create original pieces in a contemporary fashion!
From early cave drawings of the Caspian Sea to the maritime mosaics of Ancient Greece, art has been a means of expression since the evolution of mankind with water appearing as a recurring inspiration. From Artaic, our very own water inspired mosaic design collection SPLASH! is a series of free flowing patterns and rich textures inspired by the spontaneous movements of water. Time and time again, artists around the world have returned to age-old models, with water making waves in many of art history's most important movements.
Krebs has been working on a series of water paintings since 2013, and the first in the series (Boston Common) was, according to him, a HUGE challenge. 
The painting took a lot longer than he expected, but with a little patience and underlying geometry – he got it! The painting had a real sense of depth and perspective, yet it was also abstract. It could be cropped differently and remain the same in many ways, and it would reproduce well for making prints – Krebs bookmarked that idea and had the painting professionally photographed for future use. It sold right away and he was set on doing more! 
Krebs has always been interested in new reproduction technologies, especially ones that make previously unthinkable options possible. That is how he was introduced to Artaic!
"I was working on a proposal for one of my paintings to be made into a large wall installation using printed ceramic tiles, and my research led me right to Artaic! It seemed like such a natural direction to go in – Artaic has completely streamlined the ancient craft of mosaic into a modern medium. The rendering software, Tylist, does an amazing job translating a high resolution image of a painting into a mosaic of colored glass tiles. Its algorithmic process is complementary to an artistic process. It can then be cropped or stretched to fit a proposed space, and individual tiles can be rearranged manually if desired. I'm excited about the scalability and permanence of this new process. The durability of glass tiles and the broad color palette lends itself to a myriad of opportunities. I think my water paintings naturally work well in Artaic's design applications, either as a stand-alone mosaic installation or a component of a larger architectural design."
We absolutely agree! We love collaborating with artists like Brian that embrace all the capabilities mosaic tile has to offer. Needless to say, we are thrilled with the final result and look forward to future collaborations with Brian as he continues his artistic journey! For more information on Brian Krebs and his artwork, check out his website www.briankrebsstudio.com.
Lastly, if you would like to see your artistic vision of mosaic tile come to fruition, do not hesitate to reach out to us at sales@artaic.com!