by Ariel Schuster, Residential Design Consultant at Artaic 
When you think of pools, you think of resorts and luxurious estates. The truth is, there are just about 11 million pools, both public and private, in the United States. If you are fortunate enough to own your own pool – you know just how pricey construction and maintenance can be.  The idea of building a new pool or re-finishing an existing pool sounds overwhelming – the good news is, there are cost-effective ways to develop your backyard oasis or give your pool the face-lift it needs that don't break the bank.
So many pools are simply slathered in plaster or gunite (or – in layman's terms – concrete – womp), filled up with water, and BAM, you've got yourself a good old fashioned pool to enjoy.  You might think you're getting a deal with the aforementioned finishes, but the fact of the matter is they often lack durability (and need i say it – personality!) – two features that certainly are not lacking when it comes to tile.  If you are hunting for a cost effective way to achieve a more personalized look, consider solids, blends or gradients of tile to outfit the space.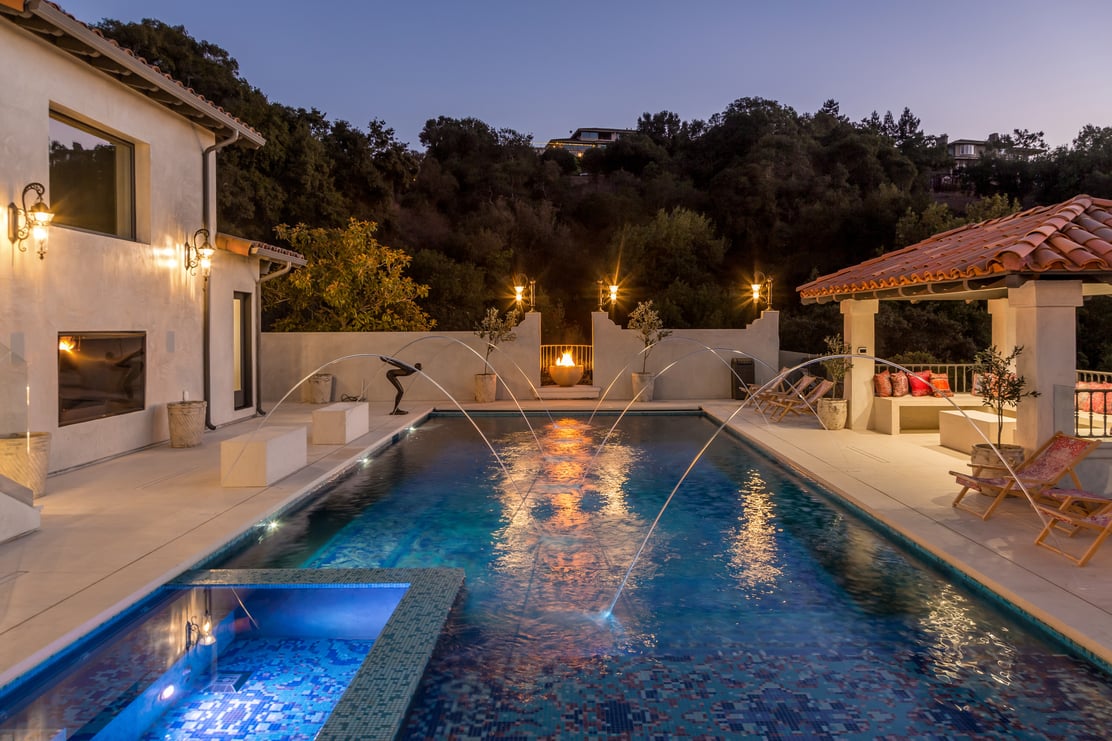 Maybe your home in Southern California features a stunning terra-cotta roof – why not compliment that with a beautifully saturated glazed porcelain tile to match?  Or perhaps your tropical escape in Palm Springs features a patio decked out in all things aqua and teal – create a glittering ombré blend of blues and greens with Vitreous Glass tile that gives you that "it's 5 o'clock somewhere" vibe all day!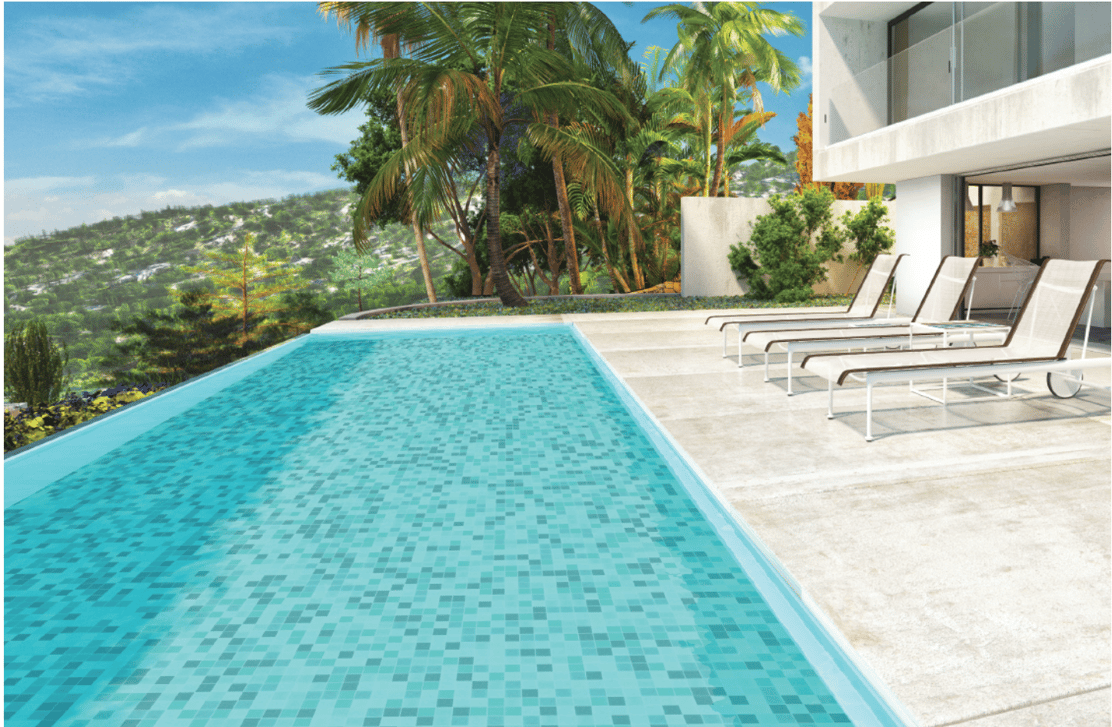 If the idea of a solid or blend of colors isn't scratching your creative itch, why not customize further with a waterline tile design?  A waterline tile mosaic will, on average, be about 6" deep, and circumnavigate your pool.  I like to think of it as a bougie installation on a budget.  Think repeating geometrics in your favorite colors, or a simple floral pattern – and who doesn't love a classic greek key (as we have learned from the house of Versace, it never goes out of style).  
If you dream in Elle Decor features, and more is more in your world of design, we can bring your dreams to life; Artaic is all about custom after all.  I know I have said this before, but given the opportunity I will install a mosaic of my dog in the bottom of my pool for all of the passing birds and planes to enjoy, you're welcome.  How custom is custom at Artaic?  Take a look at this Cayman Islands pool we produced with images underwater photographer and digital imaging specialist Jim Hellemn took of the coral reef that sits adjacent to this vacation home…THAT custom.   So hit me with your best shot – I promise we can design something fabulous, unique, and wallet-conscious for your poolside paradise.
Residential Design Consultant