Isaiah Zagar's folk art mosaics cover 50,000 sq. ft. of downtown Philadelphia. They are a medley of colored tile pieces, broken mirrors, found objects, and junk donations from the local community. Bicycle wheels become windows into the neighboring space, and glass bottles transform into kaleidoscopes refracting the sun's light. His most notable work is his first; A huge installation piece encompassing his apartment on South Street, Philadelphia.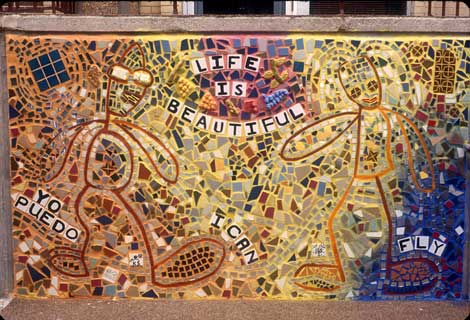 began this labyrinth of creativity in the 1960's, when he moved to Philadelphia with his wife Julia. He covered the walls and ceilings of his house, both private and public areas, and his mosaic slowly crept onto the adjacent vacant lot.
In 2004 the absent landlord of the vacant lot put it up for sale, threatening to demolish Isaiah's piece completely. This sparked a protest felt throughout Philadelphia. Through support and donations from the community, the non-profit organization Philadelphia's Magic Gardens was founded. The organization bought the property and continues to maintain its beauty. Isaiah has spent four decades creating the Magic Gardens, and his thoughts are forever embedded in the walls, literally. One phrase that shows up repeatedly within the mosaics reads,
Art is the center of the real world.
Isaiah has created works of art that prove this to be true. Once in the labyrinth of the Magic Gardens the experience becomes a fantasy. Walking through the winding pathways, the space becomes a microcosm of your real world. No two people will experience it the same way.
Many more of Isaiah's mosaics line the blocks of South Street, mingling with the eclectic surrounding environment. South street is one of the main tourist attractions in Philadelphia with a diverse mix of stores (the most popular being Condom Kingdom, Retro Vintage, and Guacamole), eateries, and people.
The undulating walls of the labyrinth open right onto South Street, with public tours available as well as rental opportunities for private events. If the trip to Philadelphia is a bit too far, the documentary "In A Dream", by Isaiah's son Jeremiah Zagar, chronicles Isaiah's work as well as his family life.